---
from$ 2758 AUD
---
Note: Current p/p indicative rate. Final price may change due to currency fluctuations.
---
---
Overview
One of the best ways to have a true Scottish Experience is to cruise Scotland's Great Glen in a wee ship, sailing through Loch Ness and along the incredible Caledonian Canal. The Great Glen cuts the Scottish Highlands in half and the Caledonian Canal is an extraordinary feast of Victorian engineering that was devised by Thomas Telford to connect the east and west Scottish coasts and to allow ships to avoid the northern stormy water of the Pentland Firth and Cape Wrath. Our six night Scottish cruises travel both ways through the Canal which connects Fort William on the west coast of Scotland, situated at the top of Loch Linnhe, to Inverness, on the east coast and the capital of the Highlands, situated on the Moray Firth. Guests can decide in which direction they wish to travel – either eastwards from Fort William or westwards from Inverness. Depending of your choice of travel through the canal we start the cruise in either Inverness (westwards) or Dunstaffnage Marina, near Oban, (eastwards). The Caledonian canal is some 60 miles long and its 29 locks, 10 bridges and 4 aqueducts link the lochs of Dochfour, Ness, Oich, and Lochy. These spectacular sea and fresh water lochs are all located in the Great Glen. Throughout the cruises there are great walks, stunning wildlife, amazing sea and fresh water lochs and picturesque Highland villages and towns and, perhaps, even a chance of seeing the elusive Loch Ness monster! Drop-off (or pick-up) at the East end of the Caledonian Canal is Seaport Marina.
Departures
Note:
Current p/p indicative rate. Final price may change due to currency fluctuations.
Cruise Itinerary
Some of the places we may visit are: Oban: If you are travelling east (the west cruise is, of course, this itinerary in reverse) we embark our vessels at 1330 at Dunstaffnage Marina, near Oban, the gateway to the Hebridean isles. Castle Stalker, Loch Linnhe: We head out into beautiful Loch Linnhe and cruise along the east side of the picturesque Isle of Lismore to an anchorage off lovely Shuna Island. We will pass the famous Castle Stalker located on a small tidal loch and our spectacular backdrop up ahead is the Ben Nevis mountain range. Corpach, Caledonian Canal entrance: To arrive at the Caledonian Canal entrance we cruise up Loch Linnhe. In this stunning sea loch you will have the opportunity to see many types of sea birds, including sea eagles, as well as dolphins, seals and the occasional whale. We are surrounded with fantastic scenery with the impressive Ben Nevis mountain becoming closer as we travel up the loch. After carefully navigating the Corran Narrows we anchor off the Canal entrance at Corpach. Caledonian Canal: We enter the canal and climb up through the eight locks of "Neptune's Staircase" to rise nearly 500 feet above the sea. You can walk along the towpath or stay on board as we climb. Then we cruise to Gairlochy and our first inland, freshwater loch which is the long and narrow Loch Lochy. In the autumn, the surrounding hills are alive to the bellows of the rutting stags and the tree-lined parts of the canal are truly magnificent in their autumn colours. We cruise on through beautiful Loch Oich to reach the town of Fort Augustus. Fort Augustus, Urquhart Castle, Loch Ness: We can visit the bustling town of Fort Augustus with its canal side pubs, Clansman Centre and Caledonian Canal Heritage Centre. When we leave the town we begin our descent through the locks to Loch Ness. This a large, long (23 miles) very deep loch and is famous for golden eagles, ospreys and of course "Nessie"! We can anchor off the fabulous, historical Urquhart Castle for an incredibly scenic night. Drumnadrochit: We can visit the pretty village of Drumnadrochit, home to the Loch Ness Centre and Exhibition, and surrounded by Glen Moriston and Glen Urquhart. We finally cruise to the end of Loch Ness and arrive at Muirtown Basin, near Inverness. Inverness: Inverness is a beautiful historic city, capital of the Highlands, and not far from the site of the famous Battle of Culloden. For the active there is the Ness Island Trail, which follows the River Ness, and you can even walk the towpath to the Canal's end at Clachnaharry, where it enters the sea.
---
Our itinerary is flexible and will depend on, guests' wishes, your skipper and, of course, existing weather conditions. If you wish to visit a specific place or have a specific experience, such as fly fishing, sea eagle tours, whisky tasting, then please do let your skipper know and he will endeavour to meet your request.
---
Seahorse II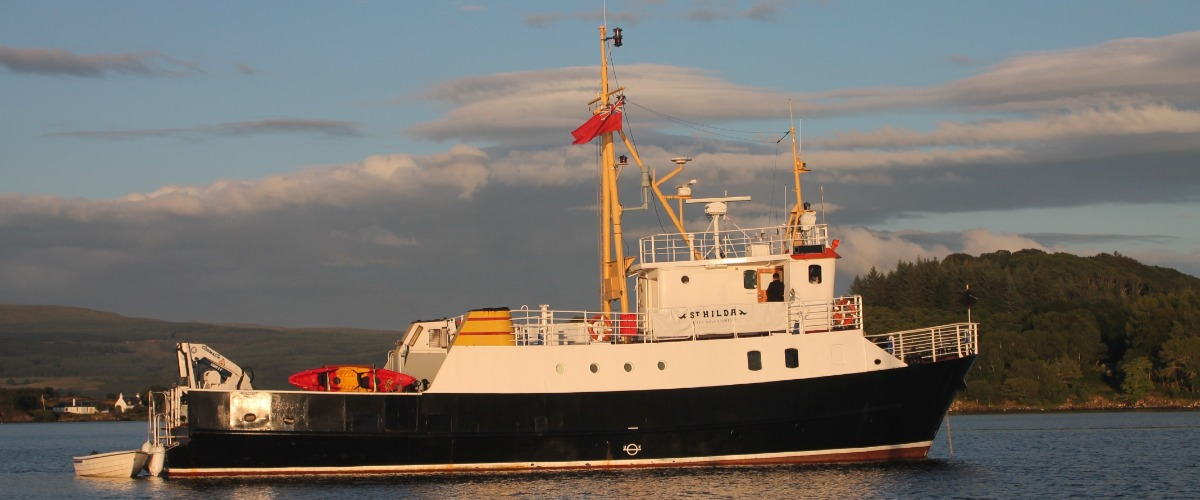 Vessel Type: Small Ship Length: 24.9 metres Passenger Capacity: 11 Seahorse II (82 feet long and a beamy 23 feet) was built to the highest standard for the Norwegian fjords and life in the high northern latitudes. A 10mm Swedish steel hull, air conditioned and heated throughout, and winter sailing for the British Royal Navy for months at a time in the western approaches means that this wee cruise ship is more than enough for these summer adventures in the Gulf Stream warmed waters of the west coast of Scotland. Powerful enough to cruise the many spectacular islands and lochs of the Inner Hebrides and Outer Hebrides, yet small enough to anchor in remote and hauntingly beautiful places that the larger passenger ships are unable to visit. With a maximum speed of 11 knots (from a 350 hp Volvo diesel) Seahorse II is a sturdy, go-anywhere, yet comfortable adventurer. Accommodation Seahorse II takes a maximum of eleven guests. There are two NEW double (or twin) en-suites and two twins, three single cabins, one with a 105 cm wide bed, all temperature controlled and with washbasin. All cabin linen and towels are supplied including luxurious towelling dressing gowns for the cabins with no en-suite. There is a wonderful deck saloon where we dine and view the spectacular Hebridean wildlife. A bridge full of the best navigational aids, a high foredeck for wildlife spotting and a boat deck for lounging, she is the perfect vessel for your life afloat. On the spacious aft deck (ideal for alfresco dining when the boat is at anchor or under way) we have a powerful little crane for launching Seahorse's two dinghies, two sea kayaks and paddle board. Here there is also plenty of room for your windsurf and kitesurf gears, diving gear, sailing dinghies and anything else you need for a great Scottish sea adventure. Your Crew You will have a crew of three taking you on your Scottish mini cruise. Your professional skipper is passionate about boats, sailing, and the natural environment of the islands and sea lochs of the Hebrides and Argyll. He is more than happy to share his knowledge of the area to those on board while ensuring his shipmates have as much fun as possible. You will have your own on board chef who provides wonderful meals, locally-sourced and freshly prepared from the galley and a bosun/crewmember who will be there to provide assistance whenever you will need it.
Highlights
• Visit Oban & Inverness • Discover Castle Stalker, Loch Linnhe & Fort Augustus, Urquhart Castle, Loch Ness • Travel through the Caledonian Canal • Explore Drumnadrochit
Map